About Us
A History of Disaster Restoration
Branch owner John Vernon prides himself on his strong work ethic and he brings that sensibility with him everyday at 911 Restoration Winston-Salem.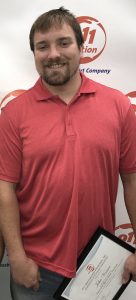 John knows what it is like to build something out of nothing, which is exactly what he did with his landscaping company. What started as a gig mowing lawns grew into a business remodeling homes, and for the last 5 years he has been a proud business owner.
Now, through 911 Restoration, John hopes to take that passion for home renovations and share it with his customers. He wants you to know that even after a disaster has affected your home or business, his team can turn that situation into a success that you will want to brag about.
He provides high quality services and will offer free estimates on the same day his guys arrives on the scene. John knows how to literally build a home from the ground up, so you can trust that the job will be done correctly when you hire his crew.
John realizes that in this industry there is always something to learn, and takes the time to teach his teammates at every opportunity in order to make sure his entire operation is always at the top of their game.
When you work with 911 Restoration Winston-Salem you can be sure that we offer 100% quality service for every aspects of the job, so call John today.
Types of Property Damage By Season
The changing of the seasons bring different challenges that may cause water damage, mold growth or structural damage on your home or business, and John and his team knows exactly how to handle all of them.
During the summer, thunderstorms, tornadoes and powerful winds can cause you need to the assistance of our repair workers. These storms can cause debris to fly into your property, causing external damages. Leaves and branches may also get clogged in your roof's drainage system, allowing water to leak into the property's interior.

Spring brings with it harsh, evening storms that can cause extensive water damage to both the interior and exterior of your property. If your roof or foundation has any cracks, water can seep inside, creating anywhere from mild water stains to destructive flooding.

In the fall, the wind can become even more powerful. They can cause windows to break due to flying debris, roof shingles to become loose and garage doors to become damaged.

The winter months cause one of the most potentially destructive issues, which are pipe bursts. This causes flooding inside the home, which can lead to water damage and contribute to mold infestations.
John wants his company to be there for you all year round, so call his specialists when you discover any type of water damage or mold growth in your home or business.
Getting To Know The Winston-Salem Branch Owner
When John is not with helping people with their water damage and mold issues, he is volunteering at Habitat For Humanity and assisting the elderly.
In fact, the local channel 2 news station has recognized John's efforts to give back to the community by featuring him on a segment where he assisted elderly people get back on track after competing restoration companies swindled them out of their money.
John will even work pro-bono for senior citizens who find themselves in dire straights. For example, when he found out about about an elderly woman that need a wheelchair ramp for her home, John stepped up and installed one for free.
He also aims to plan monthly events where he invites members of the community to attend. Along with feeding his guests, he plans to teach them how to look for mold in their property, shut off the water valve to the home and to how to handle basic water-based emergencies.
He is excited to help the community and approaches every situation with a positive attitude. To John, "Every bit of this is my fresh start," and he hopes he spread that to you by giving you your fresh start, no matter what situation you may find yourself in. So, call 911 Restoration Winston-Salem today!