Water Damage Restoration in Winston-Salem
Being a property owner in North Carolina can prove to be difficult when tropical cyclones, tornadoes, and hurricanes impact the homes and businesses in the Triad area.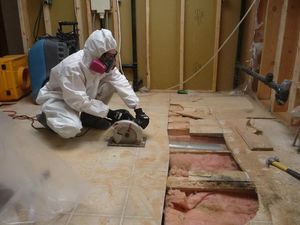 Fortunately, when severe weather creates water damage to your property, the technicians at 911 Restoration of Winston-Salem will provide you with expert, disaster damage services.
Whether your home leaks due to a heavy storm or a pipe bursts flood your business, the technicians guarantee to respond within 45 minutes of receiving your call ready to begin the water cleanup process. Call us at 336-579-2501 and allow us to provide a free visual inspection.

When we arrive on the scene, repair workers will begin water extraction and flood repair services. The water damage restoration process also includes a free visual inspection, ensuring that property owners are completely aware of the scope of the work.
Along with performing speedy water damage repairs, the specialists will check the property for signs of mold growth. Mold can be just as damaging to your property's structure as water damage, which is why we provide both mitigation services.
Keeping you safe is our top priority, so when you find yourself dealing with the effects of a tropical rainstorm and need immediate flood cleanup services in your home, give the highly trained technicians in Winston-Salem a call right away!
Mitigating Mold Due To Water Damage
Hurricanes and tornadoes create heavy rainfall and powerful winds, both of which can have a significant impact on your property. Wind can remove roof shingles and break windows, allowing the rain to get to the interior of your home.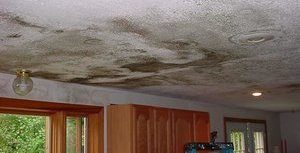 If these storms occur during the warm season when humidity is high, then the moisture can lead to mold on walls, your ceiling, and other parts of the property that aren't always easily visible.
It only takes 24 hours for moisture to start a full-blown mold infestation. The humidity in North Carolina makes it easy for mold spores to sprout into an infestation, especially if there is water damage present inside of your home or business.
Mold can grow anywhere, especially if your wall AC is leaking water inside of your property or if a broken water pipe leaks under your sink and floor. If mold starts to grow in your home or business, it can cause structural damage, allergies, and respiratory issues.
The mold experts at 911 Restoration of Winston-Salem understand that cleaning mold out of residential and commercial properties is crucial to maintaining the overall health of both the property and the people using the spaces. The mold inspection team will check those hard-to-reach places, such as air ducts, crawl spaces, and attics, to remove spores and dry the area so that there is no chance of a reoccurring mold infestation. Call us at 336-579-2501 and see how we can help.
Does Insurance Cover Home Water Leaks?
There are different types of insurance policies you can purchase to cover the various ways water damage can impact your home or business.
For example, standard homeowner's insurance covers basic water damage issues, such as wall repair services for damages caused by a pipe burst or remediation services to fix a water leak in your ceiling.
However, when it comes to flood damage services, your policy may not have you covered. Flood repair services are not covered if the flood was caused by an external issue, such as a nearby body of water overflowing into your property.
In order to be completely covered for all types of flood damage cleanup services, property owners need to purchase a supplemental flood insurance policy. This will cover repair costs for almost all types of flood damage.
911 Restoration of Winston-Salem not only works with all types of insurance companies, but their staff will file the insurance claim for you. We will handle the paperwork and do whatever we can to make sure you get the coverage you are entitled to receive.
Our IICRC-certified technicians at 911 Restoration of Winston-Salem are ready 24/7/365 to provide professional mold removal, cleaning, and disaster restoration services.
In the event that your homeowner's insurance policy will not cover the water damage repairs you need, you can still be sure that we offer competitive prices on all of our water damage cleanup services. Call 911 Restoration of Winston-Salem, as soon as you discover 911 water restoration or mold inside of your property and we will help you understand the cost to mitigate a water intrusion or mold infestation today.
Serving the communities of Browns Summit, Forsyth, Kernersville, King, Oak Ridge, Pfafftown and surrounding area.