Fire Damage Restoration Winston-Salem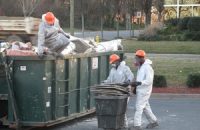 Fire damage restoration and smoke removal is  a job performed with dedication and compassion by 911 restoration of Winston-Salem because we understand how emotionally heavy a fire can be to the home or business owner. We do our absolute best to restore every inch of your home per your specifications. Call us at 336-579-2501 and allow us to provide you with a free visual inspection.
Once the firefighters have put out the fire at your residence, call our fire damage restoration Winston-Salem crew for professional aid in your time of need. We handle:
Smoke removal
Water Restoration
Mold Remediation
Reconstruction
Fire Repair
Fire damage is one of the worst disasters to affect a home or business because it is more than severe structural damage, it also is followed by 911 water restoration caused aby the fire department by putting out the fire, which can be followed by 911 mold restoration infestations. This is all only the physical damage. We know the emotional toll can be taxing as well. So our fire and mold restoration crews are trained to support the homeowner in their time of need.
We are IICRC certified in Fire Restoration and Smoke Remediation to ensure your home is perfectly restored and healthy. If your business was damaged in a fire, we ensure a safe, thorough, and quick restoration that gets your doors open again fast.
When disaster strikes your home call 911 Restoration and our fire damage restoration Winston-Salem staff. Call us at 336-579-2501 and see how we can help.
Fire Damage Restoration Questions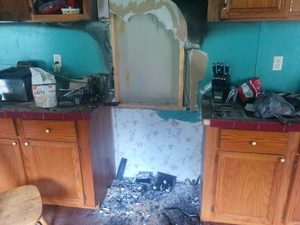 If you have questions about fire damage restoration, we encourage you to speak with our Fire Information Center. We see the most engaged and concerned customers after house fires. They typically want to know what the process of restoration is after a fire, how to handle the insurance paperwork, how long the repairs will take, and how much the job will cost.
The good news is insurance companies will usually cover the entire cost of fire damage restoration, depending on your policy, and 911 Restoration works with all insurance companies. We handle everything from the repair process to the insurance paperwork. Our goal is to provide you with a fresh start, which means reducing any stress that you may have. The best way to accomplish that is to ensure all your questions are answered and we meet your expectations. Depending on the extent of the fire, the disaster restoration can take anywhere from weeks to months.
Call 911 Restoration of Winston-Salem for a fire damage restoration and see what the fresh start can do for you. Call us at 336-579-2501
DIY Smoke Removal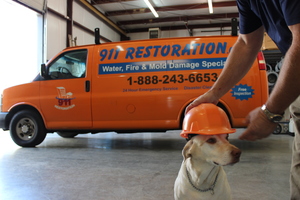 Smoke removal is best left to the professionals because if it is left untreated, smoke can last in air vents and other surfaces for months or even years. The majority of smoke can be found and remediated by DIY chemicals and some good elbow grease. However, professional smoke removal is the difference between a pretty aesthetic with asthma like symptoms and a completely restored home that is safe to breathe in.
For a breath of fresh air, call the fresh start company for professional fire and smoke removal Winston-Salem services today at 336-579-2501.