Sanitization and Disinfection Services in Triad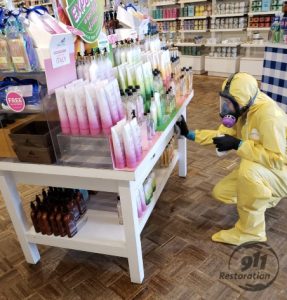 Life in our community has changed abruptly due to the rapid and sudden spread of the coronavirus pandemic. Between social distancing measures and the need for constant disinfection, it can feel as though we are in a constant state of excessive caution. Rest assured, this crisis will not last forever. But we can only move beyond these difficult times if we take the threat of coronavirus seriously. The quicker and more completely we act, the faster we flatten the curve.
Do not underestimate the damage this virus does. Most people who are young and healthy do recover from a coronavirus infection. But others in our community are vulnerable to severe illness and even death. For their sake, adhere to the guidelines set forth by organizations like the Centers for Disease Control.
Coronavirus is highly contagious in part because a person may be infected for as many as 14 days before they are aware of it. Some individuals never experience symptoms at all. But if you carry coronavirus, you can spread it. You do not have to show symptoms to be contagious. With this in mind, do not assume you, your family, or your employees are virus-free simply because you feel healthy. Call us at 336-579-2501 and see how we can help.

Wash your hands frequently. Stay home as much as possible and leave a distance of at least six feet between yourself and others when you go out in public. Sanitize your home and business property thoroughly.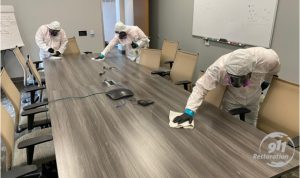 The virus lives on surfaces for hours… sometimes even days. Deep cleaning is absolutely essential at this time, especially if you own a commercial property. Remember that the employees and customers who pass through your facility come from different households and varying lifestyles. They may not all be observing adequate social distancing. Even if they are, they may still have been exposed to coronavirus and could carry it into your establishment without knowing. To provide peace of mind for the staff and buyers who keep you in business, maintain regular disinfection procedures.
Call 911 Restoration of Triad if you could use a hand. Our sanitization crew provides professional deep cleaning for offices, retail spaces, and other commercial water restoration facilities. We even serve residential properties. All our technicians are trained to follow CDC and EPA protocols to the letter. They work hard to give you excellent service, communicate clearly, and address all questions or concerns. Above all, we at 911 Restoration want to help you believe in a Fresh Start beyond this pandemic. It will take vigilance and dedication, but we know we will get there.
Our IICRC-certified technicians at 911 Restoration of Triad are ready 24/7/365 to provide professional mold removal, cleaning, and disaster restoration services.
For comprehensive sanitization and disinfection in Triad and the surrounding areas, call 911 Restoration today at 336-579-2501.