Triad Disaster Restoration Services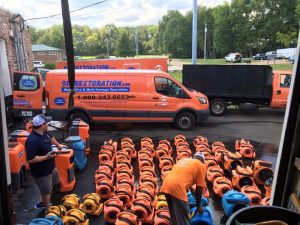 Local businesses and homeowners in Triad enjoy a multitude of perks. From helping friendly customers to being located in a beautiful area, commercial property owners love serving the local community.  However, disaster can strike at any time. A flood or fire destroying your business can severely impact your livelihood and your life. You may experience feelings of stress, anger, panic, and fear when you witness your commercial building being harmed. Thankful, the emergency restoration experts at 911 Restoration of Triad are only a phone call away.
Our licensed, bonded, and insured specialists are standing by 24/7/365 to assist you. We understand just how important your business is to you. That's why we are dedicated to providing top-notch disaster relief services to Triad. Whether you're located down the street or across the county, our experts will be there within just 45 minutes to renovate and rebuild your commercial or residential property.
Water Damage Restoration Services Available 24/7
An indoor flood can happen any time of the day or night. Water damage doesn't wait for anyone. Whether the damage is caused by a flooded basement, pipe burst, or severe storm, knowing your business is being damaged by water is devastating.
However stressed or scared you may feel, it's critical to call for help right away. A little leak can turn into a full-blown problem in no time at all. Water will not only damage your inventory, but it can also put your building and your health at risk. Water encourages the growth of 911 mold restoration, which can cause sneezing, coughing, and worsened asthma and allergy symptoms. Moreover, if the flooding was caused by a sewage backup, the dirty sewage water can contain harmful bacteria and viruses.
It's essential that you call in a team of experts to handle the problem. At 911 Restoration of Triad, our water damage restoration technicians know how to safely and efficiently deal with flooding. We have the equipment, education, and experience to securely remove all water from your business. We'll be at your location within 45 minutes of your first call to us and quickly get to work.
911 Restoration offers a free visual inspection for property owners only. We also offer free insurance consultations. When you hire us, you'll also get:
Emergency boarding up

24-hour emergency water cleanup

Complete water removal

Dehumidifying and drying services

And a Fresh Start
If you need immediate water damage restoration assistance, contact us today.
Your Go-To Fire Restoration Team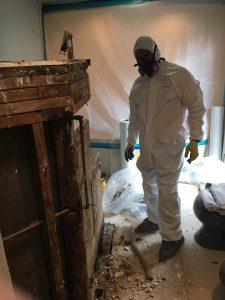 Water damage isn't the only disaster that can shut down your business and destroy your home. A fire can destroy your commercial property. After the local fire department has put out the flames, you need a fire damage restoration company to help you with the cleanup efforts.
911 Restoration of Triad proudly serves the communities of Winston Salem, Kernersville, Clemmons, and the surrounding areas. If you're a Triad business owner, we can help. Our smoke removal experts will be at your store in no time at all to help with smoke removal, odor removal, fire repair, reconstruction, and more.
We are an IICRC certified fire and water restoration near me company that cares. We know that your business is your livelihood and passion. That's why we'll treat your commercial building as if it was our own. 911 Restoration will treat you with the utmost respect and sincerity. This is a tough time you're going through and we want to help.
Triad's Trusted Emergency Restoration Company
911 Restoration of Triad is the trusted company for disaster restoration services. We are a local franchise that is part of a nationwide company. We only hire the best technicians in the industry who are equipped to handle any type of emergency relief service. We specialize in floods, fire, mold removal, sewage backup, sanitization, and more.
911 Restoration takes a Fresh Start approach to every job we do, no matter how big or small it is. We are committed to excellent customer service and will support you through the entire cleanup process. We have your back every step of the way. 911 Restoration of Triad will answer any questions and address all concerns that you might have. We want to make you feel as confident and as comfortable as possible.
If you're ready for your Fresh Start, contact 911 Restoration of Triad now. We are available 24/7/365 to help with your disaster restoration needs. We're here for you when you need us the most.