Disaster Restoration Winston-Salem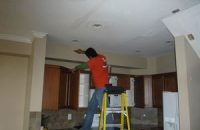 Disaster restoration is a service provided by 911 Restoration of Winston-Salem designed to make any property whole again after fires, floods, or even sewage backup. When major storms blow though the area, we are on call 24/7 to provide relief within 45-minutes. Call us at 336-579-2501 and allow us to provide a free visual inspection.
Our emergency response vehicles are fully outfitted with the latest air movers and mold remediation equipment so that our disaster restoration Winston-Salem crews are ready at a moment's notice to begin your property repair.
We handle all of the following disaster restoration jobs:
Flood cleanup
Contents removal
Mold remediation
Fire and smoke restoration
Sewage decontamination
Reconstruction
And more
Our disaster restoration staff in Winston-Salem are prepared for all natural and manmade disasters. Call us when your home floods or your commercial business is damaged for a fresh start.
What to Do if Your Home Floods in a Storm?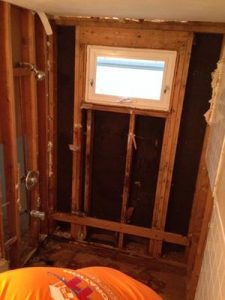 If your home floods, you need to leave quickly if possible, making sure any family (including pets) can exit the home safely. If you cannot exit your home, see if you can safely shut off utilities. Turning off your electricity will make your home safer until help arrives. Try to reach a high point in your home, like an upstairs or attic. Call 911 if you are trapped in your home.
If you are able to safely escape your flooded property, call 911 Restoration for same day service water damage restoration from our disaster restoration Winston-Salem professionals. Our air movers will begin the process of restoring your property by drying out the drywall, carpets, and any other areas inundated with water.
If mold s present in our inspection and testing, our air scrubbers will remove the particles of mold from your home. This is an important step because often times when floods and other water damage occur, mold will grow in part due to the excess moisture in your home. Mold can cause allergy like symptoms, so you want trained professionals, such as those at 911 Restoration to perform mold removal.
In many cases, your insurance or FEMA will cover the damage if it is a national disaster or even statewide, such as a hurricane. However, in some cases you may need flood insurance to cover the damage, and without it you will have to pay for it out of pocket.
911 Restoration will be happy to work with you to ensure you receive an affordable fresh start. Call us at 336-579-2501 and see how we can help.
What to do after a Fire in your Commercial Property?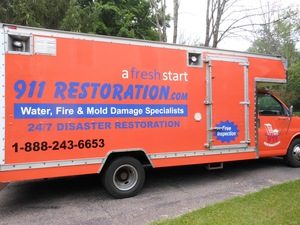 If your commercial property catches fire, make sure all personnel make it to safely out of the building and call the fire department. Once the fire has been doused, you may find that you have fire, smoke, and water damage, possibly leading to mold on your walls.
Once the fire department has left, let 911 Restoration and our disaster restoration Winston-Salem professionals help you. The people we hire are IICRC certified in all types of home restoration. We have the experience and training to completely repair your commercial property into the business you've always wanted.
Call today at 336-579-2501 for your fresh start.