How Climate Change Is Impacting North Carolina And What You Can Do to Protect Your Home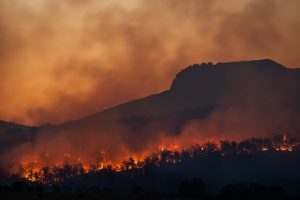 From rising sea levels and frequent storms to heat waves, climate change is having a major impact on the world. This is no different for North Carolina, which is already seeing the effects of climate change in the extreme weather it is experiencing. Unless measures are taken to reduce emissions and become more sustainable, these effects will only continue to become more pronounced over time.
As climate change results in severe storms, wildfires, and flooding, homeowners also have to take measures to protect their property. Since our homes are not built for severe weather, they are ill-equipped to handle it and are vulnerable to fire and water damage. However, there are precautions you can take and adaptations you can make to protect your home from the inevitable effects of climate change and minimize any damage that does occur.
How Climate Change Is Impacting North Carolina
According to the North Carolina Climate Science Report, climate change is having a severe impact on the state, including via storms, flooding, rising sea levels, and temperature changes.
Rising Temperatures
Climate change has resulted in increasing temperatures and extreme heat. The interval 2009-2018 was the warmest decade in recent history and was approximately 0.6°F warmer than the warmest decade last century (1930-1939). Additionally, 2019 was the warmest year recorded for North Carolina.
Floods and Storms
Floods and tropical storms like hurricanes have become increasingly severe over the past 20 years, and wind speed and rainfall are going to keep increasing as the weather continues to warm.
Wildfires
The frequent droughts are also likely to increase the risk of wildfires in the state. In fact, 50% of the state's population (4.8 million people) is already living in areas that are at an increased risk of wildfires.
Rising Sea Level
Climate change is also resulting in rising sea levels, with the sea level along the northeastern coast of NC rising twice as fast as that along the southeastern coast. This is set to continue with melting ice and will result in high tide flooding. This, along with eroding shores, is threatening the coastal communities in North Carolina.
How to Protect Your Home
There are many measures you can take to protect your home from the effects of climate change. Some of these steps are simple, while others are costly. All of them will make your home more secure.
Flood Damage
If you're concerned about flooding, there are many ways to make your home more flood-resistant. One of the best ways to do this is by getting a sump pump system that can pump water out and prevent severe water damage in case your house does see flooding. You can also buy "air bricks" and temporary seals for external doors as well as install one-way valves on toilets to reduce the risk of sewage backup and extensive water damage.
Other measures you can take include using stone or waterproof ceramic flooring instead of wood flooring or having your wood flooring replaced with waterproof flooring. If there's water damage, this will ensure that the wood does not rot or grow mold.
Storm Protection
North Carolina is no stranger to tropical storms and hurricanes. One of the easiest steps you can take to prevent water damage from storms is to make sure that your gutters and downspouts are completely clean and secure. Remove any leaves and debris and ensure that the downspouts are turned away from your home so that the rainwater is directed away from the structure.
It's also good practice to secure items to prevent them from being blown away and turned into projectiles during harsh storms. This includes garden furniture, gardening equipment, fencing, and more. Trees and other vegetation must be trimmed since loose branches can also turn into projectiles.
High-speed winds can also damage the entry points to your home, namely your doors and windows. Wind can smash open windows and doors, make its way inside your home, and even damage the roof. Once the windows and doors are no longer in place, water can make its way into your house and damage your belongings.
Remove any corroded windows or loose fittings and replace them. You can also install storm shutters or board up your windows and doors to prevent wind and water damage. Another solution to this problem is replacing your windows with high-impact windows, which are more wind-resistant. When tackling outdoor fixes, always check your roof and make sure that it doesn't need any repairs. Any missing or loose shingles should be replaced immediately to prevent storm damage.
Fire Damage
To protect yourself from wildfires, it's essential that you create a safe zone around your property. If you're at high risk of wildfires, remove combustible materials like woodpiles and wooden fencing from around your home and keep your grass short and watered. Longer, dry grass can carry fire to your house, while short, green grass is less likely to do so.
You should also make sure to store fuel properly and resist burning items. Instead, compost debris and clean up around your property. Some individuals also invest in fire-proof landscaping by using inflammable materials like concrete and rocks around their homes. You can also use fire-resistant plants and shrubs to add to this.
Call 911 Restoration of the Triad for Home Restoration Services
If you face fire damage or water damage, don't wait and let the problem become worse. The longer you wait to have restoration done, the more the damage can spread and the higher the cost can get. If you're in North Carolina and have an emergency, call 911 Restoration of the Triad.
We are experienced professionals, and our technicians are IICRC-certified and ready to help you 24/7. In fact, we can be at your home within 45 minutes of an emergency. Use our home restoration services by calling us at (336) 579-2501 or reaching out to us here.